Working Holiday is permitted in Japan for people between the ages of 18 and 30 who have Japanese nationality, and stay, attend school, or work for up to two years in a country that has an agreement with Japan. It is a system that can be done. As of 2017, the number of partner countries has exceeded 20. The number of people accepted, visa fees, and years of stay vary from country to country, but here I would like to write about my working holiday in Australia.
Why you choose Australia for working holiday?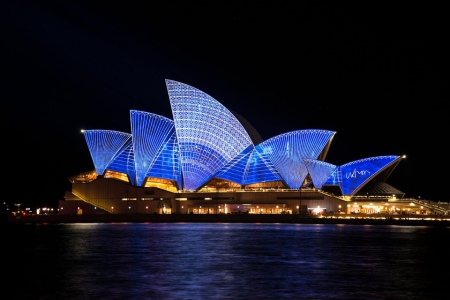 Why Australia?
There are many countries in the world, so why go to Australia with a Working Holiday Visa? There are various reasons, but I would like to briefly explain my own reason as an example.
Since I was in junior high school, I dreamed of becoming a caregiver. After graduating from high school, I went to a long-term care vocational school to obtain a national qualification, and at the age of 20, I became a member of society as a long-term care welfare worker. At the age of 23, I went to Sweden for training and became more motivated to study English deeply and live abroad. At the age of 25, I decided to quit my job and go abroad.
At that time, when I went abroad, I set two goals. One is to go to a language school to study English, and the other is to work in a long-term care facility because you can work or volunteer. My overseas life plan started from those two goals.
 What to do with VISA?
First of all, I was worried about whether I had a student visa or a working holiday visa. There are differences depending on the country, but basically it is possible to work or attend school in either case. However, with a student visa, working hours may be limited or prohibited. Also, if you have a working holiday visa, you can only study for up to 4 months.
Due to my budget, it was difficult to go to school for a long time, so I decided to use a working holiday visa that allows me to go to school for a short period of time and stay for one year.
 Where to go?
Also, I was worried about which country to go to. I wanted to go to a language school, so I decided to choose from English-speaking countries in Canada, Australia, the United Kingdom and New Zealand.
However, in the UK, the number of people who can get a working holiday visa is decided in one year, and I could not go immediately because a lottery was required, so I gave up. Canada has a cold image and I gave up because I was not good at cold weather. I decided to go to Australia, which had the image of a warm climate. However, Melbourne and Adelaide, where I stayed, actually had the same climate as Japan.
So I decided to use elimination for a working holiday visa, Australia. Make the big decision to live abroad so easily! You might think that, but when you look at it in a long life, one year of it is really quick. In addition, you can only get a working holiday visa until you are 30 years old, so when you want to go, you should go where you want to go.
What I've seen during working holiday
 Linguistic schools
I stayed in Australia for a year and attended a language school. Japanese who go to Australia on a working holiday usually go to a language school first. The period varies, but is it about 2 to 4 weeks?
Of course, it is possible to stay without going to school. Unfortunately, however, the language level of Japanese people is said to be by far the lowest compared to people in other countries. The daily conversation courses of language schools are roughly divided into 5 to 6 levels in every school, but Japanese people tend to gather at lower levels.
I also feel that more people with working holiday visas who go to a language school for a short period of time are more focused on making friends than those who want to study English for a long time, such as student visas. I did. I couldn't improve my English, so in the end I formed a group of Japanese people and talked in Japanese … I think there were many Japanese people like that. The Japanese want to flock, which is why they are shunned by people from other countries.
 Different purposes
But of course this is just one example, not everyone. The purpose of Working Holiday is different for each person, and some people don't want to make foreign friends, they just want to travel. If you come to Australia to get acquainted with Japanese people, that's fine.
However, for those who really want to study English or make foreign friends, it is not too much to gather with Japanese people, and it is easy and good, so English grammar learned in advance from junior high school to high school I would like to review it.
 About looking for job
It may not be relevant to those who have savings and travel abroad during their working holiday stay, but most people will work. Like a language school, this also depends on what kind of work you want to do in what kind of environment.
It is no exaggeration to say that working in Australia is proportional to your English level and salary. The minimum wage in Australia is about $ 17 an hour and about 1,400 yen in Japanese yen. And a working holiday visa person can only work for 6 months under the same employer. This is required by law, but in reality there are so many employers who do not pay the minimum wage.
 Cash job
Jobs that are not paid the minimum wage are commonly referred to as "cash jobs." By handing the salary, that is, by handing it in cash, the person is not working legally without signing a contract when starting work, and the employer gives the worker the minimum wage as well as taxes, etc. It is a system that you do not have to pay. Cash jobs can be found in many places, especially restaurants and cafes, but most are not local Australian-owned places, but foreign-owned restaurants for those staying in Australia on a working holiday. In other words, the places where Japanese who do not speak English can work are Japanese restaurants that do not need to speak English, and there are many cash jobs with illegal wages. However, the equation holds that they have no other job and must work. That is, as I mentioned earlier, English level is proportional to salary.
 Depends on the place
Of course, there are places where even foreigners pay legally. In fact, the Japanese restaurant where I first worked in Melbourne was a decent salary place. But it still had a minimum hourly wage of $ 17, and there was no holiday allowance. For Australians, working on Sundays and public holidays gives me a premium hourly wage, but I didn't.
And even if I work at a Japanese restaurant that is legally paid, only Japanese people work, so I speak only Japanese. After all, my English ability doesn't improve and I end up living the same daily life as when I was in Japan.
Restaurants and cafes require English, but there are also farm jobs for jobs that do not require speaking English. This is agriculture, but like restaurants, it is very often unscrupulous and often not known until you actually work, so there is a risk.
 About difficulty of finding the job
I attended a language school in Melbourne and worked at a Japanese restaurant. After school, I quit the job and moved to a small town called Adelaide, where I started looking for a job again.
Originally, there aren't many Japanese people in the city, but I wanted to work in a place where there were no Japanese people in order to improve my English skills, so I emailed non-Japanese restaurants and cafes, sent my resume, and so on. I actually went into the restaurant and handed out my resume while saying "I want you to hire me." This is a common way to find a job not only in Australia but also abroad.
However, it was very difficult for me who was not accustomed to the method. It was so painful that I wouldn't want to do it again, but thanks to that effort, I was able to work full-time at a restaurant with no Japanese, and I was able to greatly improve my English. It was actually a cash job, but the amount I got wasn't bad. In just two months, I was able to save $ 5,000, or about 440,000 yen.
Enjoy as much as possible!!
When it comes to the image of Working Holiday, it may be that playing is stronger than studying or working. But that's not a mistake. Because this is a holiday!
The important thing is what the holiday will look like. Do you think that only Japanese people will get together and speak Japanese and return to Japan without any growth? Do you make a lot of foreign friends, work in an English environment, improve your English, and then go back to Japan? Whether it's a long-term trip or how you spend your holidays, it's up to you, but it can take many forms depending on your thoughts and efforts. I wish you a wonderful working holiday.